10th Annual 18th Century Market Fair at Locust Grove October 26th-27th
Posted by Joe Hayden on Wednesday, October 23, 2013 at 9:08 AM
By Joe Hayden / October 23, 2013
Comment
The 10th Annual 18th Century Market Fair takes place on Saturday, October 26th and Sunday, October 27th from 10:00 a.m. until 4:00 p.m. both days. This renowned event will take place at the historic Locust Grove Plantation at 561 Blankenbaker Lane in Louisville. Admissions will be $6 for adults and $3 for children.
The esteemed Major William Croghan, Locust Grove and The Illinois Regiment of Virginia have created the look and feel of a real 18th Century-style Market Fair for all to witness and enjoy. Fair goers will find a variety of booths and shops set up with authentic, handcrafted wares, jewelry, clothing, pottery, artwork and more. There will be musical entertainment and even a somewhat era appropriate meals including concessions by His Lordship's Beef, Crown Pointe Bread and The Sweet Liberty Food Shop.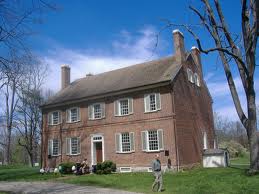 Patrons will find the staff and volunteers of Locust Grove in era appropriate costumes and visitors are welcome to dress up and participate. There will be both British and American faux encampments and mock battles featuring General George Rogers Clark's own militia, the Illinois regiment, the British Dragoons and Marines, German Hessians and Native Americans.
Those that appreciate history won't want to miss the 10th Annual 18th Century Market Fair at Locust Grove on Saturday, October 26th and Sunday, October 27th. Families and friends can eat, drink and walk back through history to enjoy the days of old.
To learn about other fun things to do in the area, please visit www.JoeHaydenRealtor.com.