3 Spots You Can Pick Up an Amazing King Cake in Louisville This Mardi Gras
Posted by Joe Hayden on Thursday, February 27, 2014 at 12:15 PM
By Joe Hayden / February 27, 2014
Comment
If you're a local in Louisville, Kentucky, you know the true value of an amazing King Cake around Mardi Gras for true celebratory purposes. From Epiphany Eve to Fat Tuesday, King Cake is on the menu and is enjoyed throughout the Carnival season. Amongst the masks, costumes, dancing, and celebrations of Mardi Gras, the King Cake is perhaps the one item that wraps it all together.
Selling Like Hot Cakes: Heitzman Traditional Bakery and Deli
Selling nearly a thousand King Cakes on Fat Tuesday alone in 2012, Heitzman Traditional Bakery and Deli is a great spot to get traditional King Cakes—twisted, baked dough that is iced and topped with purple, green, and gold sprinkles. Of course, hiding in each of these cakes is the traditional plastic baby, which the employees at Heitzman Bakery claim to enjoy hiding! Over the week of Mardi Gras, the owner of Heitzman Traditional Bakery and Deli, Marguerite Schadt, can expect to sell up to 1,500 King Cakes. This bakery has served traditional and specialty baked items to Kentuckiana for over 120 years, and has (arguably) the best King Cakes in town.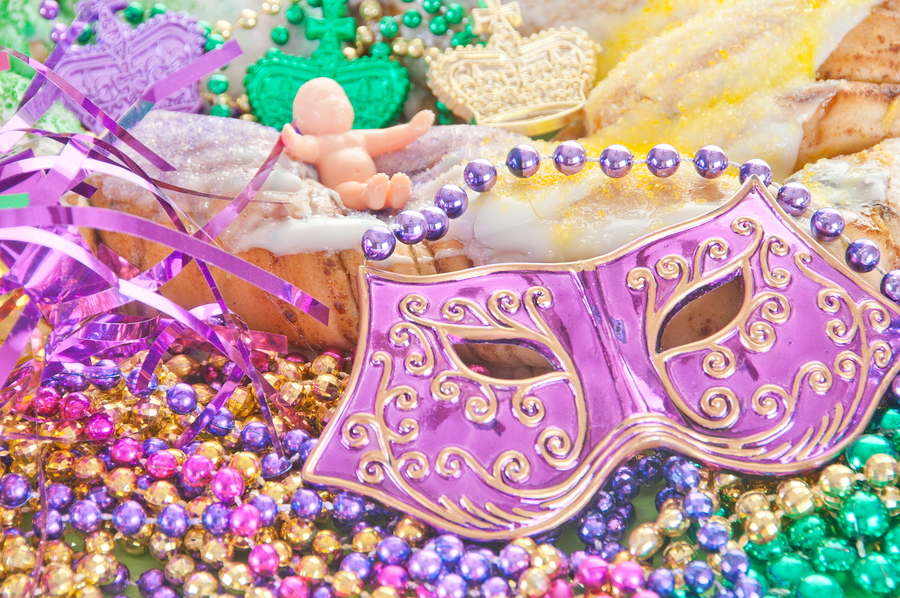 Located at 9426 Shelbyville Road, Heitzman Bakery is open Monday to Friday from 6 am to 6 pm, Saturday from 6 am to 5 pm, and Sunday from 6 am to 4 pm.
A Louisville Favorite: Plehn's Bakery
Deemed a Louisville favorite since it was opened in 1922 by Kuno Plehn from Kiel, Germany, Plehn's Bakery is another hot spot for picking up your King Cake this year. Offering traditional King Cakes in cheese or cinnamon varieties, Plehn's Bakery supports the season and is in full round-up mode to provide many residents of Louisville with their traditional cakes this year. And if you won't be around for Mardi Gras this year, you don't have to miss out! Plehn's Bakery is proud to announce that their King Cakes are available by order all year long.
Plehn's has been at its St. Matthews location, at 3940 Shelbyville Road, since 1924. They are open Monday to Friday from 7 am to 6 pm, Saturday from 6:30 am to 5 pm, and Sunday from 6:30 am to 1 pm.
Paul's Fruit Market: King Cake by Nord's Bakery
Paul's Fruit Market, which has four different locations across Louisville for your convenience, will be selling King Cakes by Nord's Bakery this year for Mardi Gras. Orders can be placed online prior to March 6th for pickup on March 8th for Fat Tuesday. This version is a cinnamon bread coffee cake with cream cheese filling and traditional icing on top in the Mardi Gras colors.
Locations include St. Matthews, Taylorsville Road, Brownsboro Road, and Middletown, and all stores are open Monday to Saturday from 8 am to 6 pm, and on Sunday from 10 am to 6 pm.
An amazing King Cake for Mardi Gras is an essential dish, and picking up a special one this year is definitely not something that should be overlooked. Make your Mardi Gras complete with a traditional King Cake, and consider one of these highly recommended local bakeries.