43rd Annual World Dainty Championship in Schnitzelburg July 29th
Posted by Joe Hayden on Wednesday, July 24, 2013 at 9:44 AM
By Joe Hayden / July 24, 2013
Comment
It is time for the 43rd Annual World Dainty Championship on July 29th. This is a unique German game that has given Schnitzelburg quite a bit of renown and will take place at 1000 Goss Avenue in Louisville. All participants must be age 45 or older and the games will begin at 5:00 p.m. sharp. There will be other entertainment via live music and plenty of food and drinks available. Proceeds from food and drink sales will benefit the Little Sisters of the Poor.
The game of Dainty has been a German favorite for centuries, but it was introduced to Louisville in the early 1930s by immigrant children. It is rooted in the early 1800s in the peasant areas where parents couldn't afford expensive toys and children had to get creative in play.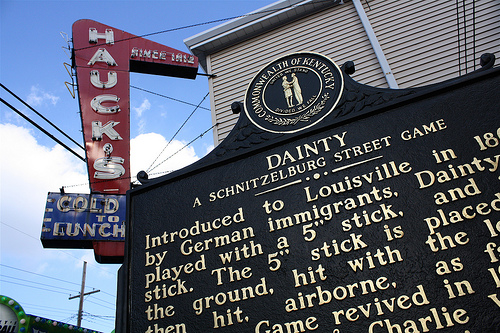 Similar to the American game of baseball, minus the ball, Dainty uses a tapered 5" stick and a 3' long bat. The player must use his/her bat to pop the game stick off the ground and then hit it like a baseball while it is in the air. The more distance the batter gets, the better, with the goal being to hit the stick the farthest.
If you have never seen a game of Dainty, you won't want to miss the fun at the 43rd Annual World Dainty Championship. Just like the good ole' days, the participants will be treated to a customary sack lunch which includes a bologna sandwich, chips and a pickle.
To learn about other fun things to do in the area, please visit our Louisville Real Estate website.