44th Annual Gaslight Festival in Jeffersontown September 15th - 22nd
Posted by Joe Hayden on Wednesday, September 11, 2013 at 9:26 AM
By Joe Hayden / September 11, 2013
Comment
This Sunday, September 15th kicks off Jeffersontown's 44th Annual Gaslight Festival, which will continue through Sunday, September 22nd. This free to attend daily festival will offer fun and entertainment for any age for the next eight days.
The Gaslight Festival began as a small celebration back in 1969, but has grown to become the 5th largest festival in this region. Utilizing the ambiance of the Gaslight Square in Jeffersontown, this eight day festival has become an annual tradition among J-town residents. Festival goers will find over 150 vendors, along with arts and crafts booths available, offering a little something for everyone. There will be plenty of food, sweets, alcoholic and non-alcoholic beverages available for those that attend daily.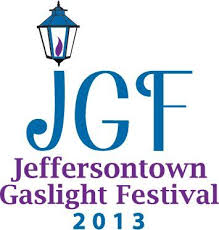 The scheduled events and locations for this week's events are as follows:
Sunday, September 15th - Gaslight Motorcycle Rally Registration 9:30 a.m. - 11 a.m. at 3408 College Drive
Monday, September 16th - The Gaslight Golf Scramble at Woodhaven Country Club and the Gaslight Bowl at 6:00 p.m. behind Skyview Park at 9900 Grassland
Tuesday, September 17th - Gaslight 5k Run/Walk at Jefferson City Hall 6:00 p.m.
Wednesday, September 18th - Gaslight Business Appreciation Day 11 a.m. to 2 p.m. at Skyview Park 2700 Watterson Trail and the Gaslight Bowl at 6:00 p.m. behind Skyview Park at 9900 Grassland
Thursday, September 19th - Gaslight Festival Parade, Taylorsville Road to Watterson Trail
Friday, September 20th - Gaslight Balloon Glow at Skyview Park from 6 p.m. until 9 p.m.
Saturday, September 21st - Festival weekend with live bands all day
Sunday, September 22nd - Gaslight Car Show at 10000 Taylorsville Road from 11 a.m. until 5 p.m.
Friends and families won't want to miss the 44th Annual Gaslight Festival in Jeffersontown from September 15th until the 22nd.
To learn about other fun things to do in the area, please visit our Louisville Homes website.