A Two-Minute Guide to the Best Art Galleries in Louisville
Posted by Joe Hayden on Friday, January 3, 2014 at 1:06 PM
By Joe Hayden / January 3, 2014
Comment
It used to be that art found outside of the major cultural capitals was considered provincial. But nowadays, with artists finding viable markets for their work closer to home, many regional galleries are impressively appointed. In Louisville, art fans have a veritable buffet of options before them as the downtown core redefines itself as a hub for emerging and established art. A monthly hop-on-hop-off Trolley, operating the first Friday of every month, brings patrons and party goers to various openings and events at many of the city's public and private galleries. Here are a few Louisville art galleries that you don't want to miss.
Get Up to Speed With Some Artists and Activities
Kentucky's oldest and most substantial art museum, The Speed Art Museum, is currently in the middle of a three-year facelift and expansion. In the meantime, Local Speed has been set up as a satellite space on 822 East Market Street. Family art activities are offered alongside samples from the Speed Museum's extensive collections of painting, sculpture, photography, and contemporary multimedia spanning 6,000 years. The 6,000 square foot "Local Speed" space is also hosting traveling exhibitions and new acquisitions by local and international artists as the Speed Museum prepares for its grand reopening in 2016.
Zephyr Gallery: A Hub for Contemporary Local Artists
Just down the street from Local Speed, the privately owned Zephyr Gallery is a contemporary art space showing work exclusively drawn from the Louisville region. Meaning "west wind," the gallery prides itself on keeping a flow of current and relevant art by holding regular competitions. Zephyr Gallery features juried shows in collaboration with the University of Louisville's Fine Arts department, along with exhibitions by its 23 member artists working in a variety of two- and three-dimensional media. Beginning as an artist-operated cooperative, the space has drawn other cultural enterprises to the neighborhood, making it an essential stopping point along the revitalized arts crawl in central Louisville.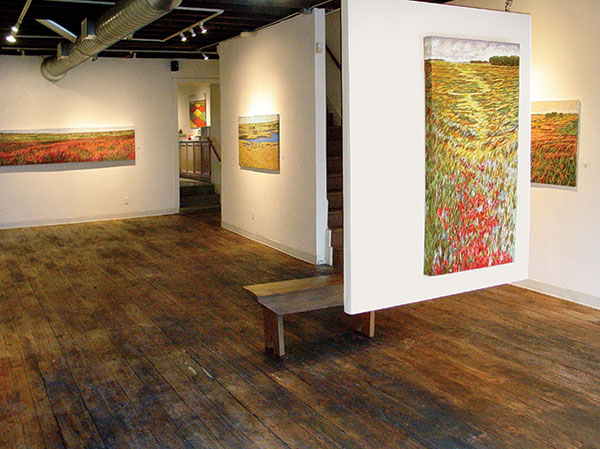 Innovation and Tradition Mingle at the Kentucky Museum of Art and Craft
The Kentucky Museum of Art and Craft blends fine and applied arts. Housed in an 1880's building on West Main Street in the heart of downtown Louisville, the gallery offers a refreshing juxtaposition of modern and post-modern, folk art, and cutting-edge craft against a backdrop that celebrates Louisville's cultural and architectural heritage. Public lectures and symposia bring speakers from the worlds of design, architecture, and academia to illuminate current exhibitions and discuss trends in contemporary art that are reflected, and built upon, by this dynamic young art gallery. The award-winning gift show boasts ceramics, glass, jewelry, and painting, and is a must-see for collectors.
It's an exciting time in Louisville, with the art scene being reshaped by an influx of emerging artists to the Ohio Valley. From the broad-reaching collections of an older art gallery like the Speed to the edgy modernism of Zephyr, Louisville art lovers can also access widely diverse artistic works at the Art and Craft museum. Located within an easy walking radius, and accessible on the first Friday of each month by the Trolley Hop, it's easy to connect the dots and get a picture of the vibrant Louisville arts scene.