ArtsReach Performing Arts Showcase 2013 May 19th
Posted by Joe Hayden on Wednesday, May 15, 2013 at 7:18 PM
By Joe Hayden / May 15, 2013
Comment
This Sunday, May 19th the Kentucky Center's Bomhard Theater at 501 West Main Street in Louisville will be proudly presenting the ArtsReach Performing Arts Showcase 2013. This highly-anticipated all ages event is free to attend and performances will start at 4:00 p.m. This year's event will be hosted by the actor and comedian Kevin McGill.
There is a spectacular lineup of young entertainers that will be performing at this year's event. The current card is featuring:
River City Drum Corp
ArtsReach Dance Studio - Chestnut Street YMCA
The Oscar Cross Step Crew, Oscar Cross B and G Club, Paducah?
Mexico Lindo a Latino Outreach program of Eastern Area Community Ministries?
ArtsReach Dance Ensemble – Metro Parks Shawnee Arts and Cultural Center?
ArtsReach Violin Studio - Meyzeek Community School, WESTEC
?Presbyterian Child Development Center?
Soljettes, D-twist, Andrew Matlock and Kat Hobaugh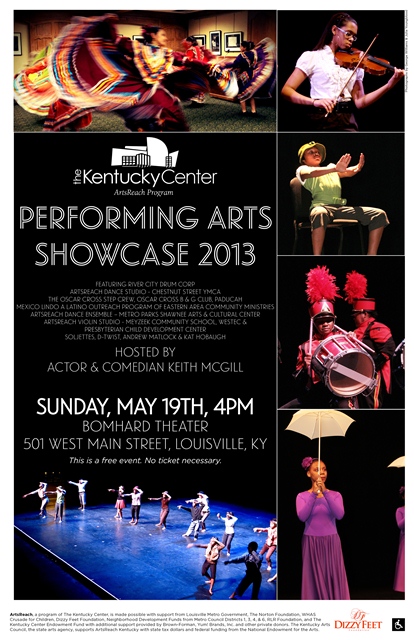 Families looking for something fun to do this weekend may want to consider the Performing Arts Showcase 2013 at the Bomhard Theater. The event will continue until the last performer leaves the stage and performances vary in length. This is a free event so no tickets are necessary. Food and drinks will be available at the concession stands during the performances.
To learn about other fun things to do in the area, please visit our Louisville Real Estate website.