Batter Up! Take a Tour of the Louisville Slugger Museum and Factory
Posted by Joe Hayden on Saturday, February 8, 2014 at 2:48 PM
By Joe Hayden / February 8, 2014
Comment
Baseball fans around the world know the Louisville Slugger name. Manufactured by Hillerich & Bradsby, the Slugger has been in production since 1894 and was the bat of choice for players like Ty Cobb, Lou Gehrig, and Babe Ruth. The company has sold more than 100 million Slugger bats since its inception. Sixty percent of players in the Major Leagues use a Slugger, making Hillerich & Bradsby the biggest brand name in baseball. The next time you're in Louisville, put a visit to the Louisville Slugger Museum & Factory at the top of your to-do list.
The History of America's Favorite Pastime Comes Alive
Visitors to the factory will be able to see the production cycle of a baseball bat. The factory also displays a variety of historical artifacts that will be of great interest to sports fans. On display at the factory is a Pete Browning bat that was manufactured in the 1880s, alongside the bat with which Babe Ruth hit his final home run with the Yankees. The museum also offers a 13-minute short film detailing stories and insights from some of baseball's best players, like Derek Jeter and Tony Gwynn. Inside the Grand Slam Gallery, you'll find a variety of Louisville Slugger bats that once belonged to some of baseball's greatest players, such as Cal Ripken Junior, Johnny Bench, and Mickey Mantle. They even have Babe Ruth's notched 1927 home run bat, the bat in which he carved 60 notches, one for every home run he hit that year.
Snap Your Picture Next to the World's Largest Baseball Bat
Babe Ruth used a number of different bats over the course of his career, and his favored 34-inch Slugger was far from the largest—he is rumored to have once used a 3.5-pound bat made from hickory. He hit his first home run with a 46-ounce behemoth. The baseball bat found just outside the Slugger Museum, though, dwarfs them all. The Louisville Slugger Museum & Factory is home to the world's largest baseball bat, a six-story-high steel replica of Ruth's Slugger that weighs in at 68,000 pounds. As if that's not enough, the museum is also home to a 17-ton limestone sculpture of a baseball glove and a giant baseball facing a mural of a shattered window. These giant-sized pieces of equipment serve as proof that baseball really is America's biggest game.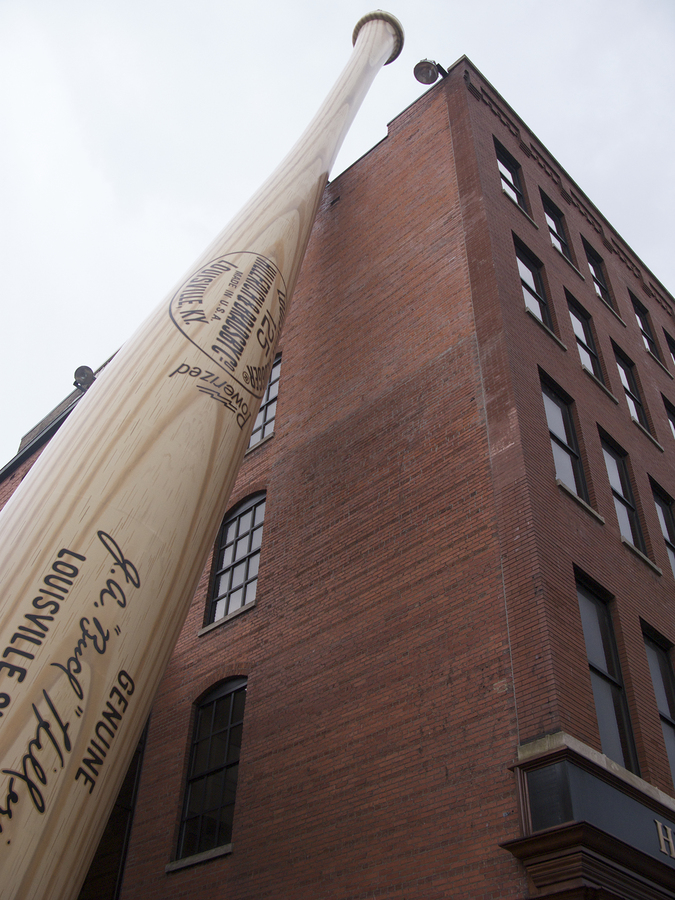 Walk the One-Mile "Louisville Slugger Walk of Fame"
Located just outside of the museum and factory, the Walk of Fame is a mile-long stretch of street that contains plaques dedicated to some of baseball's greatest players. All honorees on the Walk of Fame are current or former professional baseball players who have made major contributions to baseball while using a Slugger. Look out for names like Pete Browning, Hank Wilson, Yogi Berra, Ken Griffey Junior and George Sisler. The Walk of Fame is undergoing construction, though it's unclear whose names will be added next.
If you're going to be in Louisville this year, make sure you get out to the Louisville Slugger Museum and Factory. Louisville is at the epicenter of baseball's rich history and has made major contributions to the sport throughout the past century. With the Walk of Fame, the World's Largest Baseball Bat, and the Grand Slam Gallery, touring this great facility is something the whole family will enjoy.