Best Highlands Restaurants in Louisville, Kentucky
Posted by Joe Hayden on Wednesday, January 4, 2012 at 10:34 PM
By Joe Hayden / January 4, 2012
Comment
Naturally, the best neighborhood in Louisville, Kentucky would have some of the best restaurants in town! The beloved Highlands Neighborhood is Louisville's eclectic shopping and entertainment district. Bardstown Road, which runs through the heart of the Highlands, isn't called "Restaurant Row" for just any reason – there are some amazing restaurants for every budget.
Ramsi's Café on the World is one of the most cherished of Highlands restaurants. With late hours, a full bar, and some of the best international and regional foods in town – it's no wonder this restaurant is often a packed house. The beautiful, garden-like décor, especially the patio, has a New Orleans feel and the indoor pictures from around the world and large wall of books gives off a comfortable, home-like feeling – all the while eating some of the best dishes from around the world.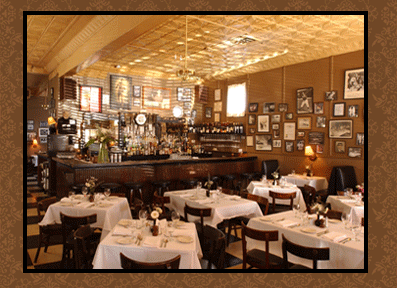 Jack Fry's restaurant is located right on Bardstown Road in the Highlands and is famous for the best steaks in town. They are consistently voted the "Best Fine Dining Restaurant" in Louisville and have won seventeen "Best of Louisville" awards. Jack Fry opened the restaurant in 1933 and because of his love for amateur boxing and racing, the eatery became known as a sportsman's hangout. Today, Jack Fry's features a romantic, intimate atmosphere with white tablecloths, old photographs, and dark woods. A trip to Jack Fry's is a must.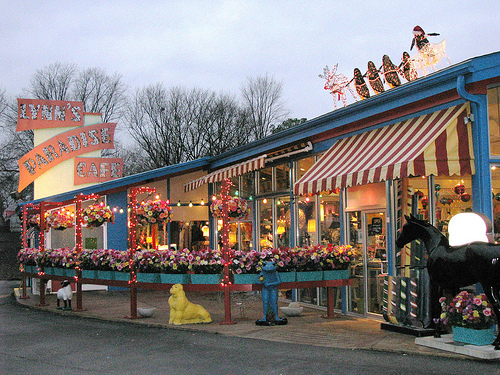 Lynn's Paradise Café is as unique as it gets. Lynn Winter opened this Highlands' treasure more than a decade ago and it continues to be a favorite among locals and visitors alike. Consistently voted the best décor in town, Lynn's is just as fun visually as it is delicious! Their wild and quirky gift shop will keep you plenty occupied while you wait for a table, as they can get very busy, especially for breakfast or brunch. They sponsor the Ugly Lamp Contest at the state fair every year, and also have an Ugly Mug Café, where your ugly coffee mug can be preserved for eternity. Lynn's Paradise Café is a sight to see and should be on every Louisville To-Do list.
Lilly's is an upscale, fine dining restaurant located in the Highlands on Bardstown Road as well. The menu changes every week, but organic and locally grown food is always served. The owner and chef, Kathy Cary, mixes international influences with American Southern tradition. The atmosphere is charming and romantic, with local art lining the walls, which also changes as often as the cuisine.
This is just a small list of the many restaurants in the Highlands. While taking a stroll down Bardstown Road, one could sample a taste of exotic international cuisine, a local favorite, or choose from the many chain restaurants that line the street. Louisville is a foodie's paradise, with the Highlands being the flavorful center.