Camping Season - The Best Places to Pitch a Tent Near Louisville
Posted by Joe Hayden on Sunday, July 21, 2013 at 7:53 PM
By Joe Hayden / July 21, 2013
Comment
Camping season is one of the most memorable and fun times of the year. Obviously camping is one of the best ways to take advantage of good weather and vacation time (both from work and school), as well as one of the greatest ways to connect with friends and build quality relationships. Louisville has some wonderful campsites for those looking to take advantage of all it has to offer. Read the list below then grab your friends and family and hit the road! Summer only comes around once a year and it would be a shame to waste a beautiful weekend, wouldn't it?
Jefferson Memorial Forest
This campsite is really only minutes away from Louisville, but don't let that stop you from staying here. In fact, if anything its proximity to Louisville is an advantage. Cut down on your drive time and get straight to the fun stuff by staying here. Not only does it actually feel like you're in a remote location, but at the end of the weekend when you want to head home, you don't have to worry about packing up early or arriving home late at night. The site is set up to accommodate both families and groups. The sites have picnic tables, fire pits and all the amenities you need to be comfortable.
Grandma's RV Camping
This site is technically in Shepherdsville but it is close to Louisville and has such a plethora of amenities that it really deserves to be mentioned. If you stay here, Grandma will certainly look after you! One of the more challenging aspects of camping or getting away for the weekend can be the question of what to do with your pet. At this campsite, pets are welcome; there's no need to worry about finding a sitter. If your dog or cat is part of the family, not only does bringing him along put everyone's mind at ease, but it makes the family happier too! So, if you have pets, consider this venue for your camping trip. The resort might not necessarily be tent friendly, but if you're into the RV camping experience, then definitely check it out.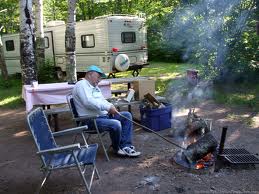 In addition to all this, Grandma's RV Camping also has wireless Internet available. If you don't want to put yourself up to the challenge of being disconnected, stay here and check your email to your heart's content.
KOA Campgrounds
KOA Campgrounds definitely have a broad selection of amenities and can accommodate your wildest camping dreams. In Louisville, the KOA Louisville South location seems to stand out among the rest as a place where families can connect and groups can make memories.
Whether you're looking for the next family bonding experience or just a way to celebrate the summer with your friends, camping is sure to bring everyone together and give you lots of stories to tell. Louisville is so fortunate to have such a great environment so close to the city where we can get away without really having to trek too far. Take advantage of that this year and go camping! Pitch a tent and experience the wilderness, even if it's just for one night.