Cherokee Triangle Art Fair April 27th and 28th
Posted by Joe Hayden on Thursday, April 25, 2013 at 11:45 AM
By Joe Hayden / April 25, 2013
Comment
The Cherokee Triangle Association is celebrating their 42nd Annual Cherokee Triangle Art Fair in the heart of the historic neighborhood on Saturday, April 27th and Sunday, April 28th from 10:00 a.m. until 6:00 p.m. on both days. The event will take place near the famed statue of General John Breckinridge Castleman on the grassy area centered along the beautiful tree-lined Cherokee Parkway between Willow Avenue and Cherokee Road.
Since 1972, the Cherokee Triangle Art Fair has been providing a family-friendly environment filled with art and entertainment at no cost, minus purchases. Fair goers can enjoy over 200 booths of fine arts, crafts, jewelry, paintings, clothes, handbags and many more unique, handmade items. Whatever your tastes, there will be something at this annual event to please them, including tasty food from burgers to sweets.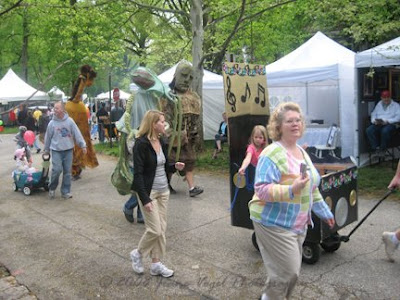 When it comes to entertainment, Cherokee Triangle has that covered with music celebrating Kentucky's Bluegrass roots and diverse citizenship. The bands schedule is as follows:
Saturday, April 27th?? - The Bluegrass tunes of "No Tools Loaned" from 1:00 p.m. until 3:00 p.m. ?The Bluegrass and R&B sounds of the "Stray Cat Blues Band" from 4:00 p.m. until 8:00 p.m.
Sunday, April 28th ??- The traditional Appalachian and Caribbean sounds of "Appalatin" from 1:00 p.m. until 3:00 p.m. ?The Americana sounds of "Paloverdi" from 3:30 p.m. until 5:30 p.m.
Families ready to celebrate the Highlands Derby tradition won't want to miss the Cherokee Triangle Art Fair on April 27th and 28th!
To learn about other fun things to do in the area, please visit our Louisville Homes website.