Compete in the World Series of Dainty July 30
Posted by Joe Hayden on Sunday, July 29, 2018 at 8:23 AM
By Joe Hayden / July 29, 2018
Comment
So, maybe you'll never get a chance to hit a grand slam in the World Series against the Yankees. Maybe you'll never bluff a poker legend at the World Series of Poker and win millions. What you can do is compete in the World Series of Dainty, and play a generations-old street game that's been a part of Louisville for almost 50 years. Who knows? You might be the Babe Ruth of Dainty, and you'll never know unless you grab a mop and go to this event.
The Historical Dainty Contest
You read that right, this classic game is played with a mop. More accurately, it's played with a mop handle. If that sounds a bit strange to you, just wait. Dainty is more than a little bit wacky, and that's what makes this game so much fun!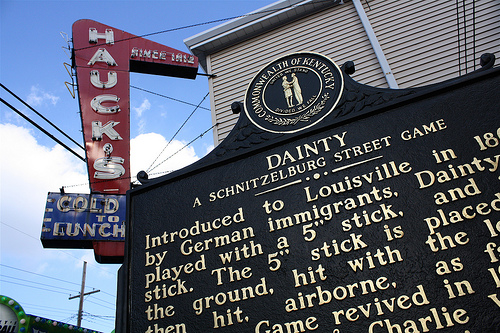 You'll use two pieces of a mop handle to play this game, one 3 feet long and another just 5 inches long. Your object is to hit the smaller piece with the bigger piece. Whoever gets the longest hit wins the trophy and becomes the World Dainty Champion. And if you get the shortest hit of all, you'll get a prize as well, a basket of lemons. All competitors must be 45 or older.
The historic dainty contest has become a famous Louisville tradition, and you'll find a festival atmosphere here. There will be live music and plenty of goodies to eat. While you're here, eat the traditional dainty meal, a baloney sandwich and a bag of chips for just $3, or two sandwiches for $5. If you don't play Dainty, kids and adults can always join in on the one-legged hopping race.
It's all happening at 1000 Goss Avenue in Schnitzelburg from 5:30 to 11 pm, and it's all really true. Go to Schnitzelburg yourself, and go get a look at a lot of history in this neighborhood.
The Streets of Schnitzelburg
Schnitzelburg was founded by German immigrants, who brought the tradition of Dainty to Louisville. This neighborhood is known for its German cuisine and its colorful, pretty architecture. There are many early 1900s homes here, pretty Craftsman-inspired and bungalow designs. Renovated and well-cared-for over the years, the historic homes here are made for modern families to love. They have all the features that today's families want, but with great details that only the older homes still have.
Go play around in the streets of Schnitzelburg this July, and you just might decide to live here every month of the year.