Did You Know? Choosing Different Paint Colors For Your Kitchen Can Affect Your Eating Habits
Posted by Joe Hayden on Tuesday, June 18, 2013 at 12:18 PM
By Joe Hayden / June 18, 2013
Comment
When you walk into a kitchen, it's not just the smells of certain foods that influence how hungry you feel. Believe it or not, the colors of your kitchen can affect your eating habits. Whether you want to encourage people in your home to eat more or whether you need help with your diet, paint colors can help. Read on for more advice on how the color of your kitchen can alter your eating habits.
Need Help With Your Diet?
If you're currently on a diet but you're still finding that you're always hungry when you walk into your kitchen, the color of the walls could be to blame. Blue is a great color choice if you need help managing your eating. Psychologists claim that blue is a calming color, and as a result can slow our speed of eating and prevent overeating. If you don't want to change the paint color in your kitchen, opt instead for blue decorations, blue place mats, or even blue dishes.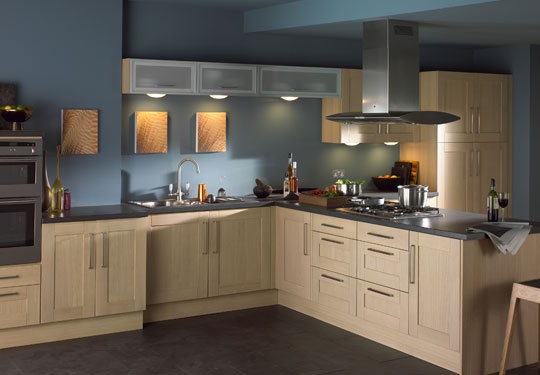 If blue isn't your favorite color, a green kitchen can have the same effect on your eating habits. Green is a natural color, and psychologists believe that this color can promote healthy eating, thereby helping your diet.
Want People To Eat More Of the Food You Cook?
Have you noticed that a lot of the restaurants you frequent have brightly colored walls? Have you noticed that many multinational corporations choose logos that are red? Think of Safeway, McDonald's and Costco. There's a reason for this: bright colors like reds, oranges, yellows and even turquoise can cause us to eat more. Orange is a stimulating color that gives us a mental boost. Because it increases the amount of oxygen that flows to the brain, it is an appetite stimulant. Yellow might also increase your chances of overeating. Psychologists believe that yellow is a happy color; we're likely to eat more when we're content and comfortable.
However, out of all the paint colors, you want a red kitchen if you're trying to get your picky eaters to finish their dinner. Red is a known stimulant, and while it is usually associated with passion and romance, it will also promote hunger.
Which Colors Aren't Great For a Kitchen?
Paint colors to avoid in your kitchen include black, browns and even purples. None of these colors are associated with foods and none of them are likely to promote hunger. At the same time though, they're not calming colors either, so they're unlikely to help you if you're trying to lose weight.
It might seem strange, but the color you choose to make your kitchen can influence how you eat. If you're looking to sell your house in Louisville, Kentucky, you might want to think twice about the color of your kitchen. Selling a home that has a kitchen decorated in calming colors like blues and greens might be more successful on the market than bright colors. In addition to this, if you're struggling with your eating habits, have a look at how your kitchen is designed. A simple coat of paint could work wonders for you and your family.