Feeling Lucky? Why Not Check Out These Louisville Area Race Tracks This Summer!
Posted by Joe Hayden on Sunday, July 28, 2013 at 4:37 PM
By Joe Hayden / July 28, 2013
Comment
Louisville is an exciting city, and there is so much to see and do in the area. One of the most famous things the city's known for around the world is horse racing, thanks to Churchill Downs and its Kentucky Derby that's held each and every year. However, besides Churchill Downs, there are also other racetracks in the area, albeit less famous, of course. If you're a betting man or woman, then nothing beats gambling on your favorite horse at the track. If you're feeling lucky, here are some of the best racetracks in and around the city.
Churchill Downs
The most famous of all the racetracks in Louisville is Churchill Downs, without a doubt. That is because the world-famous Kentucky Derby is held there each year. Located in the south of the city, the racetrack sits on Central Avenue and is a thoroughbred racetrack that was opened way back in 1875. If you're a gambling individual, this is definitely the race of the year to bet on in the city. The racetrack has also played host to the Breeder's Cup eight times over the course of its history, with the most recent occurrence being in 2011. Churchill Downs was ranked number five on a list of 65 thoroughbred racetracks in North America.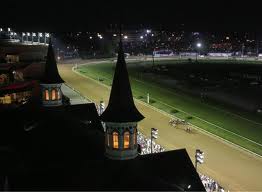 Kentucky Downs
Just south of the city of Louisville lies the small city of Franklin, with a population of just over 8,000 people. It's a thoroughbred horse racetrack as well, and it's quite new, having only been opened back in 1990. This Kentucky racetrack is unique because it features a course based on the European model of horse racing. Not only is the track here not oval in shape, but it also features a surface that is solely grass or turf instead of dirt. Kentucky Downs actually sits on the border between Tennessee and Kentucky, just off of Interstate 65. It is owned by both Ray Reid and Corey Johnsen.
The Red Mile
Fans of horse racing may want to expand their horizons a bit by visiting The Red Mile, which offers a special type of horse racing. Sitting in Lexington, Kentucky, which is in close proximity to Louisville, this horse racetrack is home to something called harness racing, which is a type of horse racing where the horses will pull carts with two wheels, known as sulkies. In the specialty niche of harness racing, The Red Mile is actually one of the more famous racetracks. The track was named after characteristics of the racetrack itself. The track is 1 mile in length and constructed out of red clay. Other things of interest at this location include a park, a round barn and a 2-story clubhouse.
These racetracks in and around Louisville make for exciting and fun destinations this summer. If you're feeling really lucky, then there's no better place to be than at your local horse racetrack, betting to your heart's content. The state of Kentucky is right in the heart of horse breeding and horse racing enthusiasm.