Frankfort Avenue - A Taste of History
Posted by Joe Hayden on Sunday, December 9, 2012 at 2:02 PM
By Joe Hayden / December 9, 2012
Comment
Frankfort Avenue, aka the Avenue as it is commonly referred to by the locals, is a charming little community filled with an abundance of cozy coffee shops, boutiques and cafes. It stretches from St. Matthews to Clifton to Crescent Hill and provides residents with not only a very cultured atmosphere, but also quick, convenient travel and easy access to downtown Louisville.
The Avenue only provides residents with a comfortable environment to live, and it provides them with plenty of dining and entertainment versatility. Lucky communal members find themselves within walking distance of Heine Brothers Coffee, The Irish Rover, Shiraz, El Mundo and Pat's Steak House.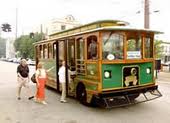 As far as entertainment, Frankfort Avenue hosts the Fat Friday Trolley Hop on the last Friday of each month, along with many annual celebrations such as the Old Tyme Christmas Celebration and the Old Fashioned 4th of July Art and Music Festival.

The Frankfort Avenue community is rich in history and was originally known as the Louisville-Lexington Turnpike back in 1850. The road may have undergone a name change, but residents can still see preserved pieces of the area's original history. The Peterson-Dumesnil House built in 1869, the 1909 Louisville Water Company Crescent Hill Filtration Plant and the Crescent Hill Library, which was built in 1908 and was one of the first nine Carnegie Libraries, are all listed in the National Register of Historic Places.
Enjoy this historic stretch of road that helps to define the culture of Louisville. Along with Bardstown Road, Frankfort Avenue adds an eclectic flair to the area that draws residents and visitors, and continues to grow with great character. Come see for yourself why this avenue is a special part of the place we call home.
To learn more about other great things to do in the area, please visit JoeHaydenRealtor.com.