An Incredible Market Statistic for Louisville Home Buyers and Sellers
Posted by Joe Hayden on Friday, May 17, 2013 at 2:05 PM
By Joe Hayden / May 17, 2013
Comment
Over the past few years, the Louisville Real Estate Market has displayed both explicit and anecdotal signs of recovery. A variety of statistics related to pricing and days on the market clearly show positive signs for the market, and to those actively participating in the market it just "feels" as if things are getting better.
From the perspective of a busy real estate professional, I have witnessed first-hand what I can only refer to as a booming market, rife with multiple-offer negotiations, homes selling in just days and prices holding steady or even increasing. In fact, it is the most-competitive and fierce market that I have witnessed in my career. Of course, there are exceptions and caveats I wish to address, but in general we may be in the midst of one of the best real estate markets to ever hit the Greater Louisville Area.
A Fascinating Real Estate Market Statistic
Like many, I have researched various market statistics looking for obvious and objective signs that our market is not only in recovery, but also actually beginning to thrive. While most typical stats do show very positive signs for our market, I decided to see what percentage of homes were selling in 20, or less, days on the market. I arbitrarily picked this number because it arguably represents a rapid sale, considering that the current average days on the market for Jefferson County is 75 days.
What I found is simply fascinating, at least to a real estate nerd like me! Take a look at this chart showing the percentage of total sales for Jefferson County year to date that sold in 20, or less, days.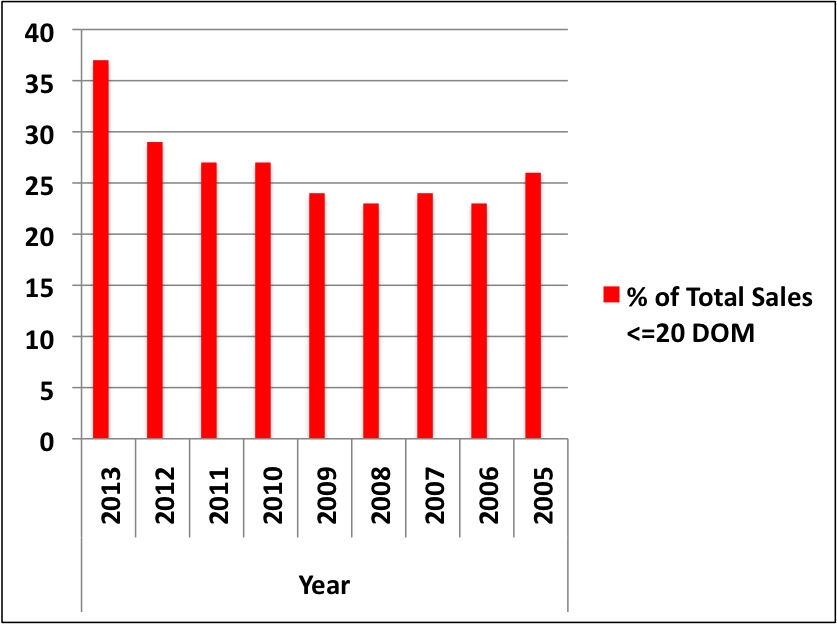 Wow! Even going back to the peak of the last real estate bubble in our market, 2005-2006, we are experiencing in incredible increase in the number of sales happening in 20, or less, days. A full 37% of all sales in Jefferson County that post on the MLS system are happening in 20, or less, days!!
Just as interesting, if we make the days on market 10 days, look at what we can observe -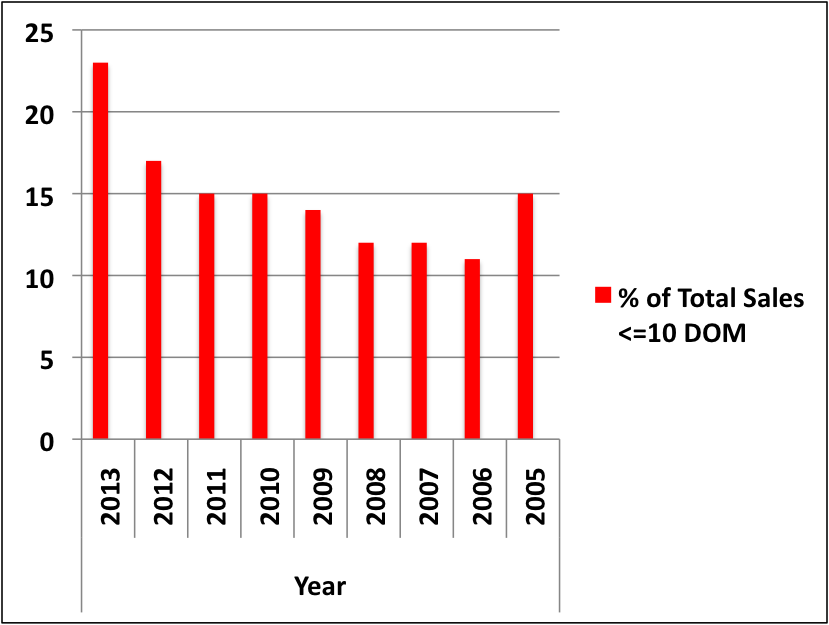 Again, even going back to the most-recent market peak, the percentage of homes in Jefferson County selling in 10, or less, days is measurably higher right now in our current market. 23% of all homes that are sold did so in 10, or less, days, far higher than at any time in the recent past.
Keep in mind that in addition to these surprising statistics, the total number of homes that have sold has been increasing over that past three years. For comparison's sake, I used the highest total home sales on the chart below (3,745) and used the current total number of homes that have sold in 20, or less, days (1,150) and calculated that percentage, essentially combining together the 2 best statistics. Even then, the percentage is 31%, which is 6% less than the current percentage and shows that the current market is more energetic than at anytime in the recent past, no matter how you compare it.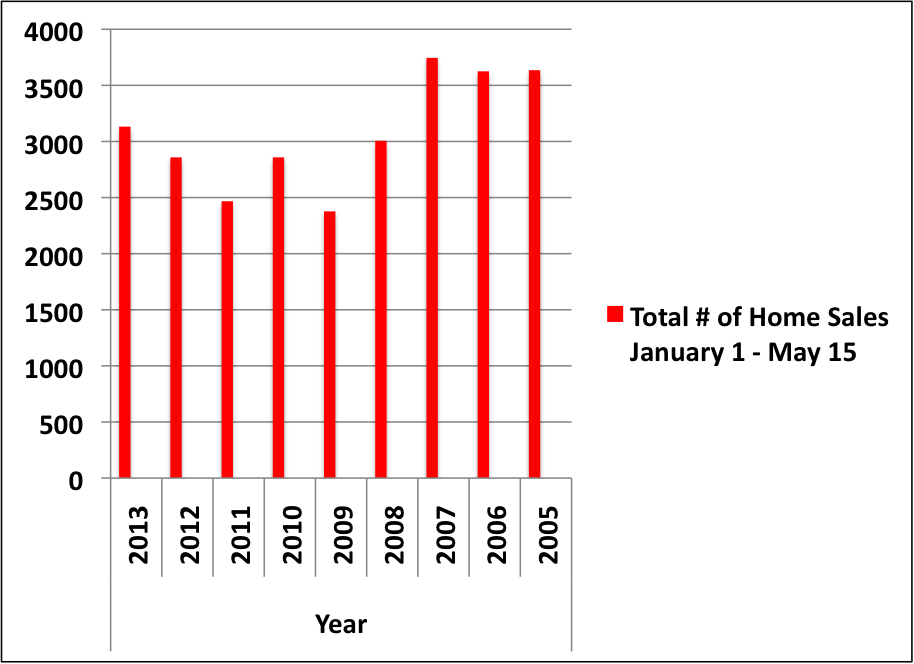 What Does This Mean for Home Buyers and Sellers?
From where I sit, this gives us a realistic set of statistics that tells us that it is not just a feeling that the market is booming, it is actually measurable.
Home buyers and home sellers both need to take note - such a market is unusual, goes against the prevailing grain of thought and requires changes to negotiating, marketing and home search strategies.
Home buyers should shift their home search strategy and make certain that they have a resource to find and view new homes on the market immediately. Buyers should also mentally prepare themselves for multiple-offer negotiations and consider making more aggressive initial offers to try to secure their desired home for the best terms.
Home sellers should work hard to prepare their home for the market, including minor updates, deferred maintenance and having the home professionally staged prior to going to market. Sellers should also ensure that their home is aggressively marketed and is priced competitively to catch the attention of as many buyers as possible to secure the best terms.
A Real-World Observation
These numbers do hide information that can only be gathered by listening to direct feedback from numerous home buyers and sellers, plus participating in a significant number of showings and negotiations in our market.
This is very important to remember - while these numbers show a surprising and interesting trend in our local real estate market, from experience these numbers generally apply mostly to homes that are in desirable locations, in move-in condition and that are marketed and priced correctly.
This by no means is an indication that our market has completely recovered or that many sellers won't find the market challenging, but it is an indication that sellers who have a nice home in good condition in a great location should take action to take advantage of what the current Louisville real estate market has to offer.
I welcome your comments and questions about these market statistics. I hope that you have found them as interesting and compelling as I did. As always, make certain that you do your due diligence prior to buying or selling a home. Market conditions can change rapidly and you may have to make further adjustments to your strategy to take full advantage of our current market.
All statistics are provided courtesy of Metro Search, Inc. and the Greater Louisville Association of Realtors. They are current as of May 15, 2013, are believed to be accurate and only reflect data for Jefferson County that is contained in the local MLS system.