Last Frankfort Avenue Trolley Hop of 2012 This Friday
Posted by Joe Hayden on Wednesday, December 26, 2012 at 9:09 PM
By Joe Hayden / December 26, 2012
Comment
If you haven't hopped the F.A.T. Friday Trolley Hop, then December 28th will be your last opportunity in 2012. This week's trolley hop will be celebrating the end of the year with extended hours of operation for both the trolley itself and many of the participating shops. Families can take a ride on the trolley from 6 p.m. until 10:30 p.m. during this Friday's fun day.
The trolley stops around all the participating shops and many, such as rthe Mellwood Art Center, offer free parking to Hoppers. Sponsors in the area include favorite stops such as Comfy Cow at 2221 Frankfort Avenue and BoomBozz Pizza at 3400 Frankfort. To satisfy your craving of quality art, there are an abundance of galleries to visit, including the Spot Five Art Studio at 2005 Frankfort Avenue and the many galleries housed at the Mellwood Art Center at 1860 Mellwood Avenue.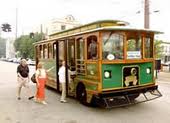 There is no shortage of restaurants along Frankfort, Mellwood and Story Avenues. Families and friends can dine on the finest of Irish cuisine while sipping a tasty red at the renowned Irish Rover at 2319 Frankfort Avenue, or go enjoy the quiet at Varanese at 2106 Frankfort. Hoppers will also enjoy an abundance of unique boutiques and salons to provide entertainment, good food, an unusual gift or a new sense of style. Bring the family out on December 28th and celebrate during the final Friday Trolley Hop of 2012.
To learn about other fun things to do in the area, please visit JoeHaydenRealtor.com.