Living in Shelbyville, Kentucky
Posted by Joe Hayden on Saturday, April 13, 2013 at 10:17 AM
By Joe Hayden / April 13, 2013
Comment
In the early 1760s, Daniel Boone rode into Shelbyville on what was the beginning of the American Saddlebred Equestrian. Afterwards, development started slowly, but by 1792 Shelbyville was sitting pretty as the Saddlebred Capital of the world.
Despite being over two centuries old, some of the farmsteads still stand, and though renovated they offer a glimpse into the area's elaborate, yet humble past. Just pulling up to these historic Shelbyville homes offers a view like that from a vintage Christmas card. Many of the homes have customized brick walkways, immaculately kept landscaping, mature trees, vintage stables and 2 tier barns.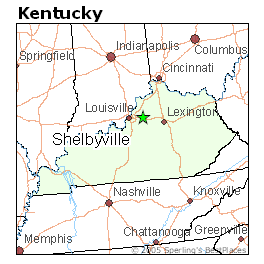 Anderson Lane is one of the most historically rich areas, offering a view of Shelbyville with homes built in the late 1700s. Though now offering more modern conveniences, the same exquisite architecture and charming structures are apparent at first glance. These stone and wood works of art offer prospective residents authentic mantels, vaulted ceilings, spacious rooms and lavish interiors.
Families looking for more modern architecture nestled in the rolling hills and tree lined fields of Shelbyville won't be disappointed with some of the newer choices available. Not to mention, the area is rich in undeveloped land just waiting for someone to design and build their dream home surrounded by nature.
The historical highlights in this pristine community are plentiful. Shelbyville is not only home to some of the most famous horse farms in history, but some renowned eating establishments also call this community home. Each offers home cooked southern specialty meals in a traditional southern belle atmosphere. The Bell House Restaurant, Claudia Sanders Dinner House and the Old Stone Inn are all venues visitors or residents alike won't want to miss.
Shelbyville is a modern community built on some of the richest land and history in the Bluegrass State. Once residents make Shelbyville home, they tend to stay and enjoy life in a beautiful town.