Looking For The Best Burger in Louisville? Here Are Yelp's Top Suggestions
Posted by Joe Hayden on Monday, August 12, 2013 at 1:41 PM
By Joe Hayden / August 12, 2013
Comment
Wherever you live in Louisville, there are plenty of culinary options to satisfy anything you might be craving. A lot of restaurants can advertise they have the best burger in town, but what do other patrons think? If you're in the mood for a really good burger, here are some of Yelp's top suggestions for burger joints in Louisville.
Bluegrass Burgers
While the burgers at Bluegrass will sell you at the first bite, you'll also be smitten with their food philosophy. Bluegrass is known for using grass-fed Kentucky meat purchased from local farmers. This burger joint is operated by Christopher Seckman, who is the owner of another Louisville food stop that follows the same philosophy, the North End Cafe.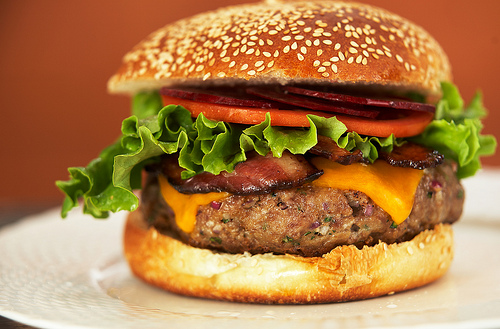 Featuring typical fare like the Angus Beef burger and Kentucky bison burger, Bluegrass also features options for vegetarians like a Marinated Portabella burger and a Black Bean burger. Whether you dine in or take it to go, sides like sweet potato fries and baked beans will go great with one of the city's best burgers.
Grind
Although this gourmet burger truck has only been around since the spring of 2012, it is already proving to be pretty popular with the locals. Opened by Kentucky native Liz Solheim Huot and her husband Jesse, Grind was started because Huot noticed a lack of gourmet burgers on the Louisville food truck scene. Using local, grass fed beef and high quality ingredients that support local businesses and farmers alike, Grind features a variety of tantalizing burgers like Classic, Spanish, BBQ, Greek and Veggie. One of Grind's most popular burgers, the B&B, is a quarter-pound burger with Brie, thick cut bacon and your choice of apricot or hot pepper jelly.
Bunz
A small, brightly colored hole in the wall that is located in the Highlands of Louisville, Bunz was devised by two local restaurateurs, Anoosh Shariat and Aziz Ghazipour. Decorated with chrome chairs and round top chairs, this cozy space offers premium hamburgers at a reasonable price and uses the best of local ingredients. While the menu is pretty straightforward and sticks to the classics, if you're looking for the restaurant's best burger, try the Red State, a double burger with Habagardil pickles, pepper jack cheese, grilled jalapenos and topped off with hot sauce.
Ollie's Trolley
Started in the 1970's as a spot for burgers and hot dogs, Ollie's Trolleys were red and gold streetcars that once featured locations in a number of states. As the only remaining trolley in Louisville, Ollie's is now located at 3rd and Kentucky with a menu that still features the old classics. While Ollie's is take out only, an order won't take long and you'll have a number of tantalizing and inexpensive options to choose from. Try an Ollie burger with the aptly named Ollie sauce, a mysterious blend akin to hot sauce and Thousand Island dressing.

Whether you're in the mood for a sit down meal or are grabbing something on the go, all of these places will satisfy your burger fever. With locally sourced ingredients and some creative combinations you won't get anywhere else, you can't make the wrong decision.