MOMIX Botanica at the Brown Theater March 8th
Posted by Joe Hayden on Monday, March 4, 2013 at 8:01 PM
By Joe Hayden / March 4, 2013
Comment
Families and friends won't want to miss the Brown Theater's presentation of MOMIX Botanica on March 8th from 8:00 p.m. until 10:00 p.m. The stage at the historic Brown Theater will come alive via the evolution of life on earth as the MOMIX performers amaze the crowd with their fluidic performances utilizing elaborate costumes and veils to represent air, water, fire and earth. Tickets are a reasonable $25 for this event at 315 West Broadway in Louisville and viewers will not be disappointed.
The stage itself offers spectators an almost eclectic feel with soothing blues, fiery reds and cool greens. The set, costumes, projections, and puppetry were all designed by the renowned Michael Curry known for his work with Cirque Du Soleil, the Metropolitan Opera and the amazing Disney. The sounds will range from birdsongs to Vivalid as the audience finds themselves relaxing and then almost awakening with the evolving stage.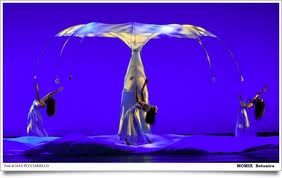 Time will cease to exist as the audience becomes lost in this amazing portrayal of the beauty of nature including the changing seasons and easing from day to night. From the costumes to the handmade props and puppetry, the MOMIX Botanica at the Brown Theater on March 8th will be an event you won't want to miss.
To learn about other fun things to do in the area, please visit our Louisville Homes website.