Nashville Memories - George Jones and Tammy Wynette
Posted by Joe Hayden on Saturday, February 1, 2014 at 8:19 AM
By Joe Hayden / February 1, 2014
1 Comment
Typically, I don't put personal stories on our real estate blog, but today I heard a song on the radio that brought back so many funny and interesting memories that I decided to jot one down and share. First, a little back story...
When I was young and thinking about what I wanted to do in life, music played a significant role in my life. So much so that I began to look for ways to work professionally in the music business. Having played guitar marginally well, at least I thought at the time, the most obvious path was "rock star". I mean, what could be easier - playing music for screaming fans, traveling the world and living a life of luxury and riches?
Ah, the follies and short-sightedness of youth... So, it turns out that being a rock star was slightly more involved than I had fully conceived, however that did not diminish my desire to be involved with music. Fortunately, I was afforded an opportunity to explore the production side of music, specifically as a recording engineer. These are the folks that place the microphones, twist the knobs and paint pictures with sound.
I was very, very blessed to begin my career in Nashville at a major recording studio, Javelina Studios, that regularly tracked many of the artists that we still know and love to this day. I began working and paying my dues as an assistant engineer, which meant that I could find myself doing everything from getting coffee and bagels to setting up sessions to recording overdubs, depending on the needs of the producer, engineer and artist, on any given day. It was how you learned to manage and run a complex recording session and for those who do not know, they are far more involved and complicated than it may appear from afar. There is no doubt, especially in Nashville, that those who work on the production side of the business are the best of the best - true professionals who are experts in their field. It couldn't be a better environment in which to learn.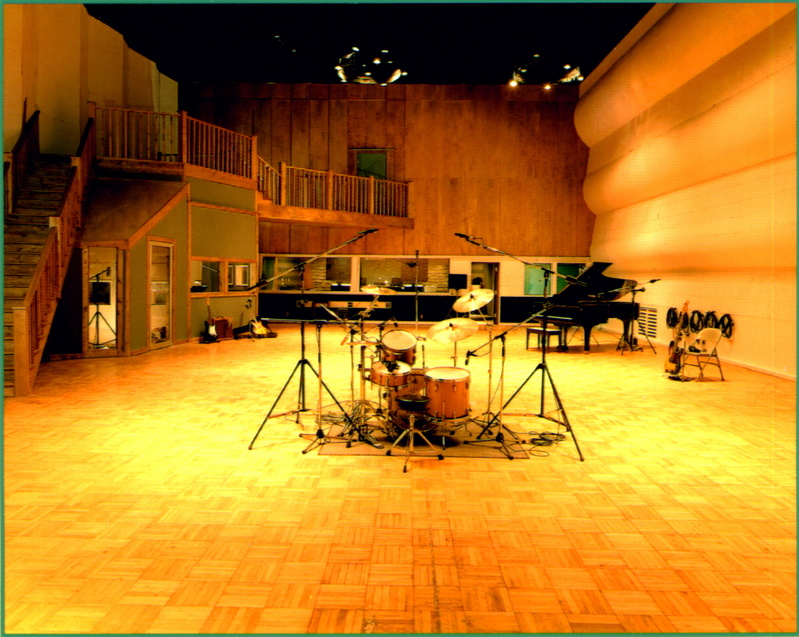 (The interior of Javelina Studio in Nashville )
The first major production that I was able to work at the studio was the album One, featuring George Jones and Tammy Wynette. Norro Wilson produced the album and Warren Peterson served as the engineer, plus there were many, many others who contributed to the production. In addition, since this was such a special occasion being the reunion of two musical legends, the session musicians brought in to play on the album included literally many of the same people who had played on the original albums of the artists. It was truly an event in music history and just fascinating to watch these pros work.
Being young, 21 at the time, and surrounded by a studio full of legends was slightly overwhelming, not forgetting that I was just beginning to learn my job and was working hard to contribute, fit in and not mess anything up that would hinder the creative process. During this time, I was able to witness so many priceless interactions between George and Tammy, plus all of the musicians and production staff. Believe me, you never knew who would walk through the door and all of the old stories began to quickly surface.
I want to relate one of my favorite personal memories of the sessions. George was in his 60s at the time and was still going strong. Tammy was the absolute sweetest person that you could imagine. I didn't know it at the time, but she was ill and this would be her last major album before she passed. She could just look at you and melt you, let alone to hear her sing - it was no wonder she was such a star and had such an influence on music.
The sessions were specifically set up to run like the old days - all of the musicians on the floor, including both vocalists, plus the Jordanaires singing 4-part harmonies, and great effort was made to capture as much of the music live as possible. You have to credit the efforts of Norro and Warren, plus the dedication of the musicians to pull off such a challenging task.
George and Tammy were in the middle of the studio floor right next to each other surrounded by "baffles" that helped to isolate their vocals from the other instruments. George, by his own admission, was stage deaf, having played thousands of very loud live shows and not wearing hearing protection. Because of this, we had to rig up a special headphone system that included a 75-watt amplifier specifically for his headphones. For those who do not understand what this means, find yourself the biggest stereo speakers that you can find, place them close together facing each other, crank up the music and put your head between the speakers. Okay, don't really do that if you wish to keep your hearing, but let's just say that his headphones were screaming, piercing loud. I could only hold them at arms length to test them because putting them on would have been a career-ender for a person like me aspiring to use their ears to work.
One of the tricks used by vocalists in the studio is to eat certain types of potato chips to use the oil in the chips to help lubricate their throat. Tammy had a bag of chips and began to eat several before the session began so she could more easily sing. Of course, we all know what crunching potato chips sound like, but I am pretty sure none of us have ever heard potato chips crunching at 115 db. Well, George Jones wearing his headphones certainly has and he was not happy at all having ridiculously loud potato chip sounds in his ears right before the session began. I had just handed him his headphones and was standing there waiting for the thumbs up from him that they were okay when he screamed out in his TexasGeorgiaAlabamaTennessee - flavored voice "who's eatin' them tator chips?!?!"
Tammy, who was standing right next to him by her microphone holding a bag of potato chips, had a surprised look on her face. She turned to him and in the sweetest, softest voice said "why George, it's me and I'm standing right here, you don't have to yell". I was choking back laughter because she had just zinged him in such a kind way and you could tell he knew he'd pushed a little hard over someone innocently eating potato chips, especially someone practically bumping shoulders with him, especially Tammy Wynette.
And with that, they both turned to their microphones, I returned to the control room, Warren got the tape rolling and the drummer counted off the first song of the sessions. Over the next few weeks and months, that album evolved into what is now a part of music history, the reunion of two of country music's greatest singers who produced some of the most-memorable music of the genre and who's talents inspired countless singers and artists, let alone their adoring fans. Their music will live forever as a testament to raw talent and hard work, plus a little fun mixed in for good measure.
I hope you enjoyed this story. It makes me laugh every time it crosses my memory. "Who's eatin' them tator chips?!?!" Have a blessed day and make sure that you follow your dreams!