St. Matthews, Kentucky - A Fun Place to Call Home
Posted by Joe Hayden on Tuesday, July 26, 2011 at 10:51 AM
By Joe Hayden / July 26, 2011
Comment
When Louisvillians think St. Matthews – they think of a great neighborhood and fun shopping! St. Matthews, Kentucky is Louisville's largest shopping district with two large malls and nearly every chain store you can think of along Shelbyville Road.
This neighborhood, however, is not just a great place to shop – it's also a great place to live! Only 8 miles from downtown Louisville, St. Matthews is one of the most well-known and popular places to call home. It is the 20th largest city in Kentucky with over 18,000 estimated residents as of 2009.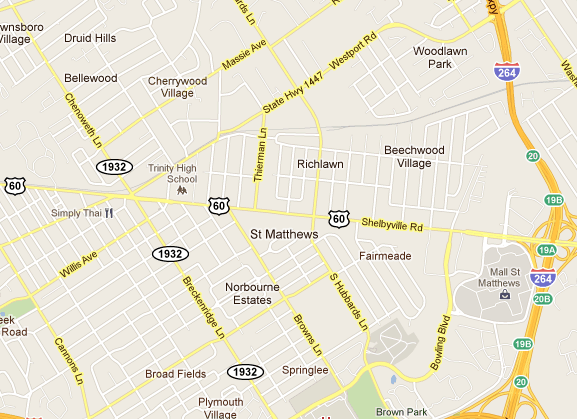 St. Matthews is home to many different styles of homes and neighborhood types. The most prevalent style though, is the Cape Cod. According to Wikipedia, Cape Cod homes are traditionally characterized by a low, broad frame building, generally a story and a half high, with a steep, perfectly pitched roof with end gables, a large central chimney, and very little ornamentation. These homes were designed to withstand the stormy, harsh weather of the Massachusetts coast. The average home price in St. Matthews is $204,773.
There are plenty of outdoor activities to keep everyone occupied in this neighborhood! Seneca Park and Cherokee Park are some of the best parks in the Louisville area, and offer excellent walking and biking trails, golf courses, soccer fields, and tennis courts. These parks are within walking distance of many St. Matthews Homes.
There are numerous restaurant and nightlife options for the St. Matthew's dweller or visitor. The original Bluegrass Brewing Company is located on Shelbyville Road; it's the city's oldest remaining brewpub and was the first to make a significant mark on the national brewpub and microbrewery scene. Urbanspoon voted Havana Rumba Cuban the best St. Matthews restaurant, along with local favorites Café Lou Lou and Plehn's Bakery on the Top 10.
St. Matthews is a great family neighborhood that has something to offer everyone. There is plenty of green space and mature trees, a close proximity to parks and downtown, and tons of opportunities to get out of the house – from shopping to restaurant options!