St. Matthews Street Festival May 17th
Posted by Joe Hayden on Friday, May 16, 2014 at 12:27 AM
By Joe Hayden / May 16, 2014
Comment
Go to the 3700 block of Frankfort Avenue for the annual St. Matthews Street Festival, an event that celebrates the businesses and culture that make this part of town unique. The event will take place all day long, from 11 am to 10 pm. The party is held from Lexington Road to Bauer Avenue along Frankfort.
Within this space, you'll find a large sampler of the St. Matthews community. Different booths proudly showcase local businesses, cuisine, style, history and more. Visit each booth to see, taste and experience everything St. Matthews has to offer. Younger family members will enjoy the Kidz Zone area.
Getting Active in St. Matthews
Different events keep the festival going all day and night. The 5K run takes placed from 8 am to 10 am. You can register to participate in the run at the St. Matthews Baptist Church. Go to the church for shuttle service out to the festival. Shuttles run from 10 am to 10 pm. Find the church at 3515 Grandview Avenue.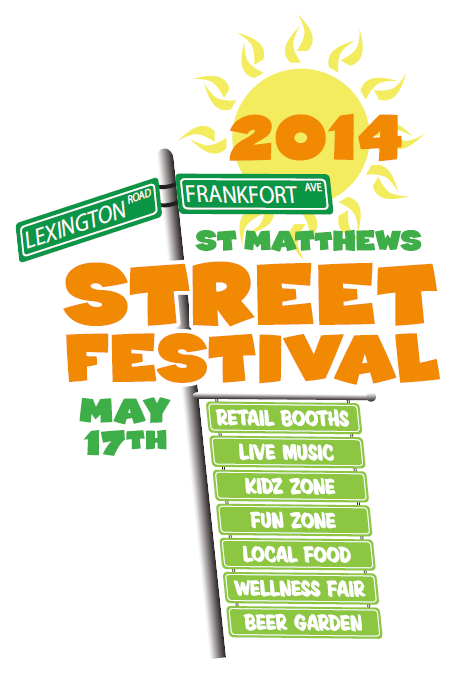 The main stage area will have events all day long. The 5K awards will be presented at 11 am. Different performers will come to the stage for the rest of the day. The Louisville Crashers will close the stage from 8:30 to 10 pm.
Street Party
St. Matthews is its own city within Louisville. It's well-known for its variety of shopping and restaurants, but at its heart it's a residential community. Tree-lined streets and elegant homes make this a desirable place to live. Two of the largest shopping malls in the entire state, the Oxmoor Mall and Mall St. Matthews, are located here.
The streets of St. Matthews will come alive on May 17, but after the festival is over the community will go back to being a peaceful, pretty part of the city. To learn more about this community, and really see it up close, visit the street party…and have fun!