Step Up the Freshness by Visiting These Farmer's Markets in Louisville
Posted by Joe Hayden on Wednesday, July 17, 2013 at 11:06 PM
By Joe Hayden / July 17, 2013
Comment
As the summer months move on, more and more people are looking for fun outdoor activities to do with their families. This summer, one great way to spend a Saturday morning might be to visit your local farmer's market. After all, store-bought produce just cannot measure up to fresh vegetables and fruits newly picked or harvested from your local farms and orchards. If you live in the Louisville area, you're in luck: there's a plethora of farmer's markets, both small and large, to choose from. Here is a list of four of the best farmer's markets in Louisville that you should definitely visit!
St. Matthews Farmer's Market
One of the largest and most popular farmer's markets in Louisville, St. Matthews Farmer's Market features numerous delights from a host of vendors, many of whom offer food samples for you to try. Come and have breakfast or an early lunch while you browse the market, where you can find everything from fresh fruits and vegetables, to honey, apple butter, grass-fed beef, and even the famous Louisville Babycake cupcakes. Open in the warmer months (usually from mid-May to mid-October), St. Matthews Farmer's Market has a wonderful ambience, with friendly people, live music, and even craft booths for you and your family to enjoy. This market is located at Beargrass Christian Church, at 4100 Shelbyville Road, and is open from 8 a.m. to 12 p.m. on Saturdays.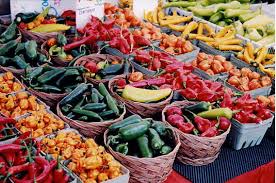 Bardstown Road Farmer's Market
Located at Bardstown Road Presbyterian Church on 1722 Bardstown Road, the Bardstown Road Farmer's Market is a must-visit and a great way to spend your Saturday mornings. This market is open year-round from 8 a.m. to 12 p.m. on Saturday, and visitors can enjoy a scrumptious breakfast of fresh-baked bread, pastries and aromatic coffee while shopping around for fresh produce. With over 30 vendors each week, you can find some of Louisville's best seasonal fruits and vegetables, as well as fresh local meats, honey, homemade cheeses, jams and jellies, and soaps. And be sure to try the fresh omelets made to order!
Douglass Loop Farmer's Market
Proudly supporting local food in the Highlands neighborhood of Louisville, the Douglass Loop Farmer's Market welcomes people and pets alike, providing live music and shaded picnic tables where families can rest and eat breakfast or lunch. This market opens from March to December, and although produce varies by season, you can always count on finding fresh local meats (including chicken, veal, beef, pork, and goat), as well as delicious breads, and homemade jams and jellies. This market is located at Douglass Boulevard Christian Church at 2005 Douglass Boulevard, and is open from 10 a.m. to 2 p.m. on Saturdays.
Jeffersontown Farmer's Market
Offering only the best and freshest from local farmers and gardeners, the Jeffersontown Farmer's Market has grown significantly in the last few years, expanding from just 10 vendors to over 35. With over 500 people coming to shop at this market on Saturdays in the summer months, the Jeffersontown Farmer's Market is a fun, bustling place to spend time with family and friends. In addition to fresh local produce and meats, the market also features live music, fun cook-offs, and even educational programs about healthy eating and gardening. This market is located at 10434 Watterson Trail, and is open from May to September. Not only is this market open on Saturdays from 8 a.m. to 12 p.m., but it is also open on Tuesday afternoons from 3 p.m. to 6:30 p.m.
Of course, this is just a small sampling of the many wonderful farmer's markets that you can find in Louisville. With the growing trend of healthy eating and supporting local, fresh produce, these markets just keep expanding and improving each year; new farmer's markets can be found every year. So, whether you are a permanent resident in Louisville or just visiting, you should definitely schedule a visit to a nearby farmer's market on a sunny Saturday morning.