The Louisville Slugger Museum Making Americas Favorite Pastime Possible
Posted by Joe Hayden on Sunday, September 25, 2011 at 2:50 PM
By Joe Hayden / September 25, 2011
Comment
Driving along Main Street through scenic downtown Louisville, residents and visitors will pass by several restaurants, hotels, shops, and architectural buildings. They will also see one of the largest contributions to America's favorite pastime, Louisville Slugger Museum.

Even though Louisville, Kentucky isn't home to a major league team, the Louisville Slugger and Museum has a rich history dating back to the family-owned company that has created the world famous Louisville Slugger baseball bat since 1884.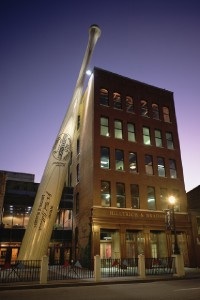 In 1880, when John Andrew "Bud" Hillerich was 14 years old, he began to apprentice in his father's woodworking shop. Four years later, he turned a wooden baseball bat for Pete Browning, who played for the Louisville Eclipse baseball team of the American Association.

Surviving a natural disaster and fire, the company's expanded growth saw the first instance of a professional athlete endorsing an athletic product. To this day, professional baseball players have continued to have their bats custom made in Louisville, not far from where the very first bats were made back in the 1800's.

Visiting the museum will show visitors how the sport has changed over the years, but also how the company, in the last 125 years, has grown from making balusters, supports for railings or furniture legs, and bedposts to creating "The Louisville Slugger" to supporting the United States Armed Forces during World War II to creating pink pats to support breast cancer research in 2006; all while making roughly one million bats a year.

With a shorter season for minor league teams, some Louisvillians and visitors may find they've missed out on regular season games, Bats nights, or playoff games. Fortunately, the Louisville Slugger Museum keeps baseball fresh year round, and it's kind of hard to miss the world's biggest 120 foot long baseball bat leaning against the museum.
To learn more about events and activities in the area, please visit Louisville Real Estate for more information.