The Top Five Places in Louisville to Get an Authentic Holiday Roast This Christmas Season
Posted by Joe Hayden on Sunday, December 15, 2013 at 12:50 PM
By Joe Hayden / December 15, 2013
Comment
Knowing where your food comes from is one sure way to ensure your Christmas dinner is authentic. Eating ethically at Christmas doesn't mean you'll have to choke back Tofurkey, though. With an upsurge in locally grown, grass-fed, and organic meats on the market, Louisville shoppers can now enjoy a special meal that connects them back to the land. Here are the five best places in Louisville to get a Christmas roast.
Head for the Hills
Taking a family drive out into the countryside, either to visit farmers markets or to buy at the farm gate, is a lovely way to connect to the folks who grow the food for your special celebrations. There are many farmers who sell using the direct-to-buyer model, including DreamCatcher, who offers beef, lamb, and pork that are all raised sustainably on their family farm. DreamCatcher sells their prime cuts at 6 different farmers' markets throughout Kentucky.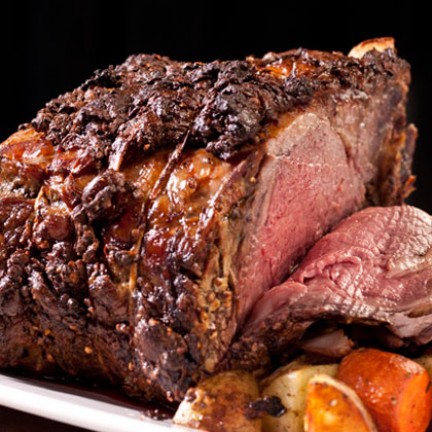 Free Range: Eat on the Wild Side
When cattle are grazed out on pastureland, they're known as 'grass-fed'. According to Jo Robinson, author of the book Pasture Perfect, "All across the country, farmers and ranchers are returning to this ancient and healthier way of raising animals."
To try some authentic, free-range goodness in the Louisville area, visit Larry's Healthy Beef for lean Angus beef roasts from their grass-fed cattle. Another producer, Jerry Farm, is an entirely horse-powered operation. Jerry Farm has free-range meats available at their farm store in Flemingsburg.
Order Online, From One Family to Another
Johns Custom Meats is a family business that sources local livestock to offer naturally raised, hormone-free meat. The loyalty Johns pays to the family farm means that animals are healthy and well cared for, and, as a result, produce better tasting cuts of meat. Prime rib, buffalo roasts and smokehouse pork are some of the special offerings that will give a Christmas dinner the 'wow' factor. There's still plenty of time to order a roast in time for the holidays, as Johns offers shipping to 26 states, along with pickup points in the Louisville area.
Eat Like a King with Local Harvest
Roast beef is considered 'prime' by many diners, but why not put on a spread that features a more exotic dish? Pork tenderloin, known as the 'king of the southern table', is available from the Local Harvest, an online compendium of farm-to-table culinary delights. Locovores will appreciate the Local Harvest selection of Shepherd Song lamb roasts, all-natural venison, and even bison roasts.
Running Late? Help is in Store
Even if you aren't able to order ahead, you can still pick up an authentic, family farm-raised roast from many local grocers in Louisville. Whole Foods Market sells beef and lamb from White Oak Pastures, along with bison and veal sourced through partnerships with farmers who meet Whole Foods' strict standards. Shoppers can buy directly from farmers without having to leave the city at Four Seasons Food Store, who lease space to farmers and feature an array of quality holiday meats. Another source is Rainbow Blossom Markets, with five locations throughout Louisville offering fresh and frozen pasture-fed meat selections.
While you may not be able to afford a $45 roast every day, splurging for the holidays will likely net you a better tasting, better quality meal. An authentic Christmas dinner can be made even more special when you know that the meal you enjoy comes from a family farm. With multiple options, from farm gate sales to online shopping to your neighborhood 'green' grocers, finding the perfect main dish for your Christmas feast should be smooth sailing.