Treat Your Sweetheart to These Famous Louisville Candy Shops and Dessert Bars
Posted by Joe Hayden on Friday, February 21, 2014 at 3:28 PM
By Joe Hayden / February 21, 2014
Comment
Candy isn't just for kids, and neither is dessert! Louisville, Kentucky reminds everyone what the sweetest things are in life, with its Willie Wonka-esque selection of candy and dessert shops fit for candy-loving kings and queens. Listed below are some of Louisville's most historic candy shops, as well as dessert-focused restaurants for those who are so sweetly inclined.
Muth's Candies - 630 East Market Street
A hometown favorite of Louisville since 1921, Muth's has been providing a candy haven to their devoted followers, concocting treats ranging from chocolates, caramels, and taffy to more adult-friendly fare, including the very popular bourbon balls made with Old Barton bourbon. During holiday season, Muth's also carries gift boxes, nuts, and holiday trees. Snap them up before they run out of stock.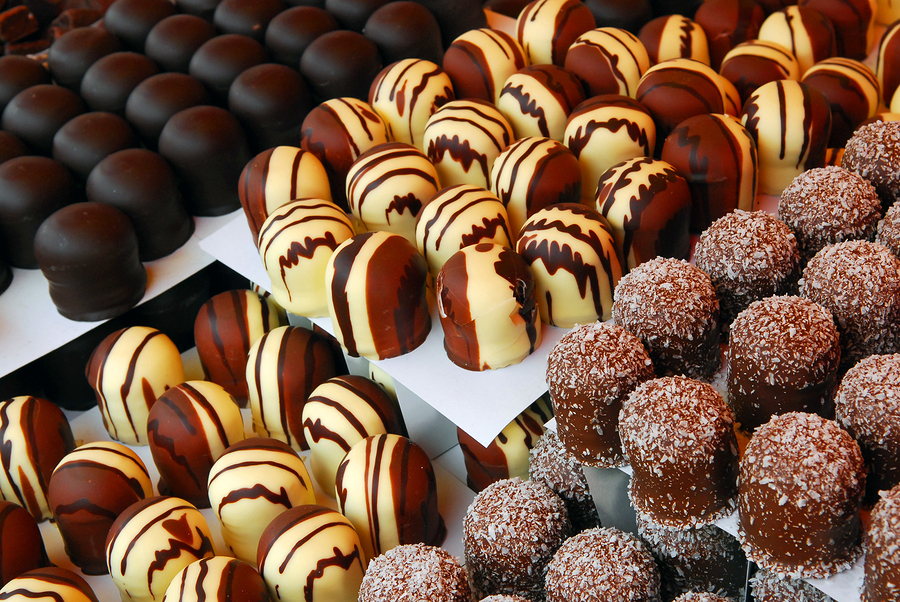 Dundee Candy Shop - 2112 Bardstown Road
Opened in 1946 by Irma Issler, the Dundee Candy Shop was dedicated to bringing in the best treats and flavors from Irma's European heritage. If you're looking for anything from gourmet dark, milk, and white chocolates, to truffles and licorice, Dundee's got it in store. Oh, and what about bourbon balls and modjeskas? Their modjeskas are amongst the best-selling candies in the shop, hand-dipped in a luscious caramel recipe. They also specialize in seasonal treats, wedding favors, and corporate gifts.
Sweet Surrender Dessert Cafe - 1804 Frankfort Avenue
If you're looking for desserts made from scratch, surrender yourself right over to the Sweet Surrender Dessert Cafe. Their cafe is open five days a week with a selection of cakes ranging from Belgian Chocolate to Red Velvet Cake, with seasonal selections including Mint Julep and Peanut Butter Pound Cake. They also didn't forget about pies, cupcakes, or cookies, which are baked with a handsome variety of flavors to choose from. Have a special dietary request? Fear not, they've also covered vegan, kosher, and gluten- and sugar-free with select cakes, tortes, and cookies.
The Chocolate Martini Bar - 1106 Lyndon Lane
Their tagline, "great food, martinis, dessert," meets its ambitions in a setting steeped in sinful sweets, delightful drinks, and a hip, trendy ambiance. The martini bar's dessert menu ranges from nine different crepes to 13 different types of hot chocolate and even frozen hot chocolate—flavors include Caramel & Sea Salt, and the more exotic Aztec flavor. For the sweet-toothed, there are numerous selections at their Chocolate Bar, from Chocolate Fondue to Cookies and Milk, coming with three freshly baked cookies. To appease the outdoorsy campfire types, a "Make Your Own S'mores" menu offering is a fun way to toast your marshmallows, bar-side.
The restaurant offers a "Liquid Dessert" menu of grand proportions; with a beer and wine list, and delightful-sounding flight selections such as their "Donut Shots," martinis, and more, it's a perfect pairing with your dessert selections. If you're still hungry after all those sweets, you can check out their appetizer and entree menus.
Proof on Main - 702 West Main Street
For the gelato-lovers in your life, consider going to Proof, where gelato and sorbet tastings are held and flavors change often. Few things in life are better than gelato made from scratch.
Ports, liqueurs, and dessert wines are part of Proof's dessert menu, and they also feature more Southern-geared dessert fare including their Corn Meal Donut with smoked bourbon sugar, and Goo Goo Supreme, a concoction of milk chocolate mousse, marshmallows, and sorghum caramel.
There's your dessert shortlist for Louisville. Your sweet tooth can stop it's aching now that it knows a sweet treat is just around the corner!