Want to Be One With Nature? Louisville Horseback Riding Trails That Won't Disappoint
Posted by Joe Hayden on Sunday, September 1, 2013 at 10:56 AM
By Joe Hayden / September 1, 2013
Comment
Louisville provides its residents and visitors with a lot of exciting activities to pursue, but one of the most rewarding activities is horseback riding. It just so happens that the area in and around the city features a good number of horseback riding trails that are perfect for riding enthusiasts. This is an easy and ideal way to reconnect with nature and strive to become one with it. Just imagine how relaxing and idyllic it will feel to ride your horse on a well-kept riding trail at any time of the year. Here are the best horseback riding trails that won't disappoint.
Eagle Creek Horse Motel and Trails
Located just outside Louisville, the Eagle Creek Horse Motel and Trails sits in Sadieville, Kentucky. This trail is great for the equestrian traveler, and it's situated on 150 acres in the north of Scott County. What makes this trail so enjoyable for horseback riders is the looped trail system that provides lots of opportunities for the perfect riding occasion. In addition, there is a campground that features everything the average camper needs while on an excursion. The riding trails here range from easy to moderate, and they're even wide enough to have enough room for both passing horses and groups of people on foot.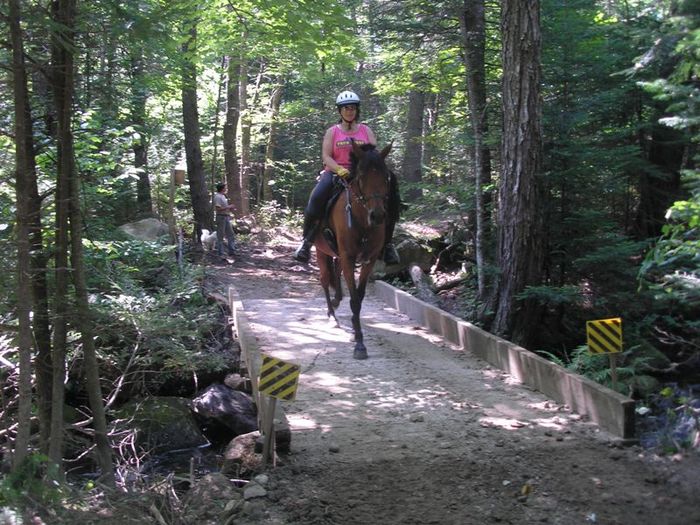 Yellowbank WMA Horse Trail
Just to the southwest of Louisville, horseback riders can discover the Yellowbank WMA Horse Trail, which is 25 miles in length and regarded around the area as a generally easy trail on which to ride your horse. It's a 25-mile equestrian trail on the main tract, with parking at the head of the trail. The Yellowbank Wildlife Management Area has 6,000 acres that feature complete recreational possibilities. Besides horseback riding, there are also opportunities to hunt, observe wildlife, fish and hike. The main tract can be found on the Breckenridge County line, but the Town Creek tract is situated a little further west.
A.J. Jolly Equestrian Trails
Just to the northeast of Louisville are the A.J. Jolly Equestrian Trails, which are part of the A.J. Jolly Park system. This park system is one of the biggest and oldest county parks in all of Kentucky, and it offers excellent opportunities for horseback riders. These equestrian trails are manageable at 20 miles in length; there is a range of difficulty, depending on the specific path that is chosen. The horse trails are made pleasing, if not idyllic, by shaded paths that nicely wind along the creek, over deep ravines and even above the lake.
These are some examples of the horseback riding trails in and around the city that just won't disappoint you if you're a horse and nature lover. These trails are just outside of Louisville, so you won't have to travel for a long time to enjoy their exciting opportunities. A great feature of these trails is that they have varying levels of difficulty, so that all riders will find something that suits them.