Where To Find the Perfect Steak in Louisville
Posted by Joe Hayden on Sunday, August 4, 2013 at 1:19 PM
By Joe Hayden / August 4, 2013
Comment
When the summer sun comes out in Louisville, you know it's not long until the steaks start hitting the grill. And whether it's in the backyard or at a restaurant, there's plenty of great steak to be found in this town. So where's the best place to pick up your slice of grilled perfection? Here's a round-up of the best steakhouses in Louisville.
Jeff Ruby's Steakhouse
Winner of the 2012 Louisville A-List award for Best Steakhouse, Jeff Ruby's has set the bar for steak in Louisville. Jeff Ruby's is a classic upscale steakhouse that also serves seafood and other delicacies such as duck ravioli and foie gras. Situated in downtown Louisville at 325 West Main Street, this fine dining establishment offers great plates in a convenient location.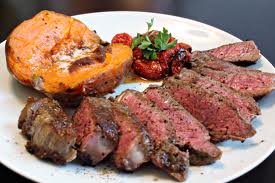 Jack Fry's Steakhouse
Over in the Highlands at 1007 Bardstown Road stands another top steak contender. Jack Fry's is an upscale location with a great atmosphere and food to match. Their fine dining menu also includes soul food selections like shrimp and grits, as well as European delicacies like escargots and paté. Come here if your want your steak served with a heaping side plate of romance.
Stoney River Legendary Steaks
You'll find this upscale steakhouse up in the Summit region at 3900 Summit Plaza Drive. Their steaks are supreme, and their coffee-encrusted filet is the stuff of legends. The owners of Stony River describe their establishment as "an upscale restaurant with casual elegance." Their ambiance has been compared to that of a mountain lodge, and their food is nothing short of delicious.
Pat's Steakhouse
Considered by some to be the original Louisville steakhouse, Pat's draws on a tradition that dates back over 150 years. Originally built as a coach stop, Pat's Steakhouse has become a Louisville institution, and they also happen to serve some of the best steaks around. Be sure to stop by Pat's at 2437 Brownsboro Road for a juicy cut and a baked potato next time you're in Clifton Heights. Once you do, you'll truly be able to consider yourself a Louisville local.
Sapporo Japanese Steakhouse
Feel like mixing things up a bit? How about a nice Japanese steak for a change? Sapporo is thought by many to be the best Japanese restaurant in town, and they make a great steak as well. Located in Deer Park at 1706 Bardstown Road, it's well worth the adventure to sample one of their culinary creations.
Z's Oyster Bar and Steakhouse
Like some seafood with your steak? Then Z's at 101 Whittington Parkway is the place to be. They serve great oysters, calamari, crab, and other seafood selections, as well as an assortment of delicious steak cuts. With these restaurants and more, there are a plethora of choices in Louisville for steak lovers. You could easily spend the whole summer following your nose, trying to pick out the best grill in town. But don't just rely on someone else's opinion; get out there and try it for yourself! You might even be able to put together your own "best-of" list.