Wine and Dine: The Most Romantic Restaurants in Louisville
Posted by Joe Hayden on Friday, April 25, 2014 at 11:28 PM
By Joe Hayden / April 25, 2014
Comment
There are a lot of considerations that go into a romantic date night, but one that tops the list is the restaurant itself. How's the ambiance, the service, and most importantly, the food?

Presented below, not in any order, are some of the most recommended romantic restaurant hotspots in Louisville, Kentucky. Whether you're looking to really impress on your first or third date, or create a memorable 10-year anniversary moment, here's a shortlist of restaurants that will help put the shine on your upcoming romantic dine-out event.
Jack Fry's Restaurant, 1007 Bardstown Road
Jack Fry's is open for both lunch and dinner, and notes of live jazz on select days of the week will add musical flavor to your ears and dining experience. Winner of "Best Romantic Restaurant" by the Louisville A-List in 2013, the menu at Jack Fry's offers delectable appetizers with southern charm, including shrimp & grits, and for those with more exploratory palates, escargot and spicy fried oysters. The entree menu is robust with plenty of proteins and cuts to choose from, ranging from wagyu beef coulotte to filet and lamb chops with shiitake mushroom potato au gratin. Reservations are highly recommended.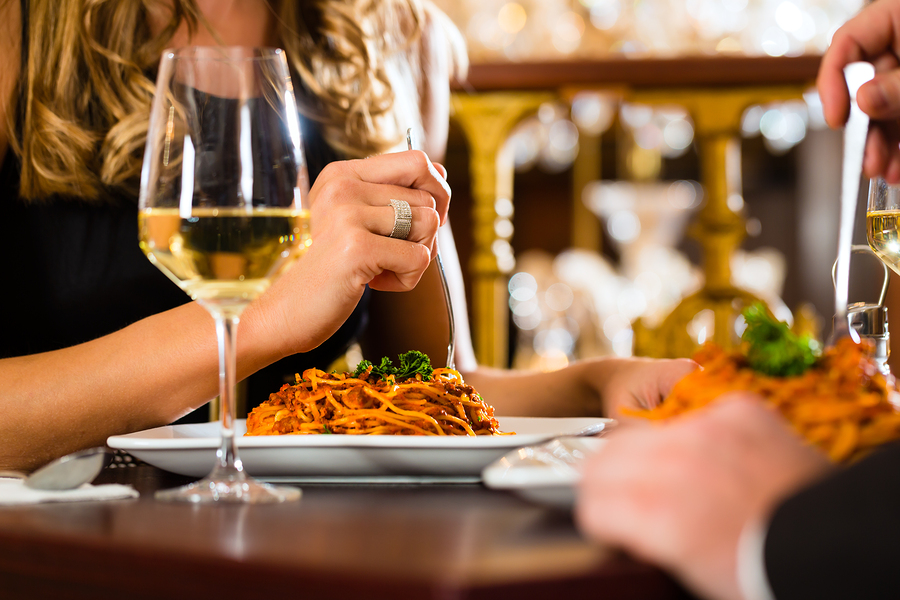 Napa River Grill, 1211 Herr Lane
Dining with a wine aficionado? Or consider yourself one? Then you might want to take a look at Napa River Grill. Awarded by Wine Spectator and Louisville Magazine for their wine selections, their dining menu is equally matched in variety and quality, with new world and seasonal influences. Note: they've got a Happy Hour between 4:30 and 7 p.m. featuring exquisite seared scallops and mussels if you're looking to keep your date romantic, but alas, short and sweet.
The Oakroom, 500 South Fourth Street
The Oakroom's claim to fame starts with being Kentucky's "only AAA Five Diamond Restaurant since 2008," as mentioned on their website. The restaurant has been recognized as a premier establishment of the highest quality by Zagat and Epicurean Magazine amongst others. There is a gilded elegance to the sleek mahogany walls of the restaurant that opened in 1907. Private dining rooms are also available for more intimate gatherings. Seasonal menu selections are available, as well as three, five, and seven course menus with sommelier-chosen wine pairings to add flair and flavor to your date night.
The Melting Pot - A Fondue Restaurant, 2045 S. Hurstbourne Parkway
Ah, the fondue restaurant, which could very well be a synonym for love. Choose from a tableside-prepared cheese fondue or a dessert chocolate fondue. The Melting Pot also offers a four-course experience incorporating both fondue experiences as well as a salad and entree selection to completely satiate your senses.
RIVUE Restaurant & Lounge, 140 North Fourth Street
If you're looking for a gorgeous view, RIVUE's got the skyline covered, and has an equally beautiful modern dining interior to match. Their menu options range from brunch to dessert to late-night dining. Be sure to visit their website for weekly specials and dining packages that include live entertainment and dancing, where you'll be romancing your date 25 stories above street level amidst a breathtaking city view.
Enjoy your romantic evening out, and rest assured that the capital "R" in romance will be handled by deft restaurant hands!